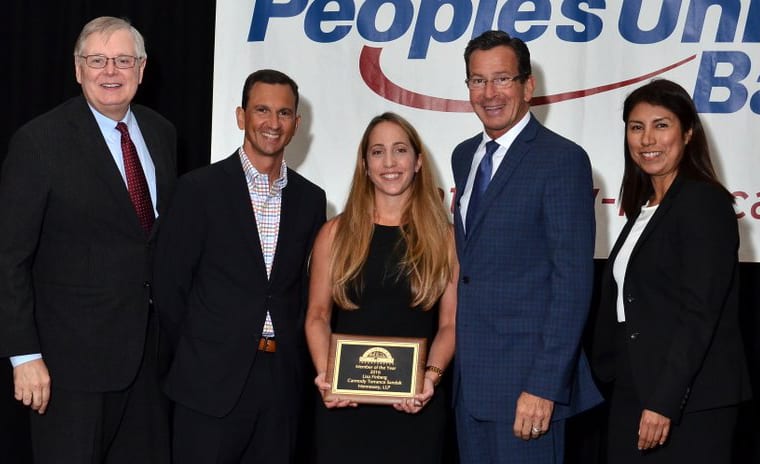 Carmody Torrance Sandak & Hennessey LLP is pleased to announce that our colleague Lisa L. Feinberg has been named the Stamford Chamber of Commerce's Member of the Year. Connecticut Governor Dannel Malloy and Stamford Chamber of Commerce's President Jack Condlin presented Lisa with the award at the Chamber's Annual Meeting and Awards Ceremony on Thursday, September 8.
The Member of the Year Award is given by the Chamber staff to the person who they feel has made the greatest contribution that year. Two years ago, Lisa joined the Young Professional's Council and has been instrumental in growing the Council's membership and programming.
"Lisa has been my go-to person for the Young Professional's Council," said Condlin, "The Council has grown tremendously because of Lisa's energy, ideas and commitment. There is no task too small or too large – whenever I need anything to get done, she gets it done."
The Young Professional's Council hosts events and programs for professionals under 40-years-old with the goal of creating a comfortable environment for meeting new people and developing lasting relationships. Lisa has helped organize large networking events, industry-specific roundtable discussions, lunch and learns, and fun social events.
"The Stamford Chamber of Commerce, and particularly the Young Professional's Council, has been a great resource for growing my professional and personal network," said Lisa. "I'm glad to have the opportunity to give back and help the Council grow into the thriving social and professional organization it has become."
About Lisa's Practice
Lisa practices primarily in the area of land use law with a focus on representing developers, institutions, property owners and tenants in connection with obtaining municipal and state permits for large scale development projects and real estate transactions.  Lisa has assisted as legal counsel for many significant development projects in Stamford and the surrounding Fairfield County communities.  She has developed strong relationships in the community that enable her to efficiently navigate her clients through the land use approval process.  Lisa's clients often credit her responsiveness, attention to detail and reliable follow-up in connection with complicated development projects.